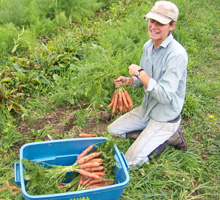 Eliot Coleman was one of Chelsea Green's very first authors back in the mid-1980s. His easy explanations of deep organic farming techniques have been inspiring others since then, and now a legion of new farm entrepreneurs are following the path he helped blaze.
New York Times columnist Mark Bittman looks at Coleman's legacy, and sees that young organic growers are figuring out how to make a nice little pile of green (money, that is).
When Brenna Chase was farming in Connecticut a few years back, new farmers weren't always welcome by oldsters. The pie, she says, just wasn't big enough. "But now," she said to me here, where she now farms, "the feeling is that the pie is getting bigger and that the more people that get into this the better it will be for everyone."
By "this," she means sustainable farming (here I use the term interchangeably with "organic" because many ethical farmers can't afford organic certification), and the poised 33-year-old, who began farming in high school, is representative of young people I've met all over the country. These are people whose concern for the environment led to a desire to grow — and eat — better food. And although chefs still get more attention, the new farmers deserve recognition for their bold and often creative directions. … There's only a quarter as much land in farming in Maine as there was 100 years ago, but that's changing. There are more farms today (up around 50 percent since 1992), more acres in farms and more money generated by farming than there were 20 years ago. This is, at least in part, thanks to people like Ms. Chase, who follow in the footsteps (foodsteps?) of one of the granddaddies of can-do, intensive organic farming, Eliot Coleman. Mr. Coleman runs
Four Season Farm
in Harborside with his wife, the gardening writer Barbara Damrosch, and has squarely faced nearly every challenge a new farmer can since he started in 1968. Now, the 1.5 acres he cultivates, mostly in vegetables, are not only almost unimaginably lush (Ms. Damrosch's
gorgeous flowers
don't hurt), but they're so productive that, in his cheerful, wise way, Mr. Coleman almost gloats: "You couldn't be in a less likely spot than here to do what we're doing," he says, "and yet we've transformed a poor, wooded area into a place where there's nothing we can't grow." I marvel at his artichokes; he responds: "I grow them just to make the Californians nervous." Now 71, Mr. Coleman maintains his long-range view. (He delights in telling the story about unloading a truckload of free clamshells when a county agent came by. "The agent," says Mr. Coleman, "was incredulous: 'Those aren't going to break down for 100 years!' But I was thinking, 'I have 100 years of free fertilizer here!' ") And he clearly loves the work. ("If work is what you do when you're not doing what you want," he quips, "I haven't worked a day in my life.")
Read the entire article.
---