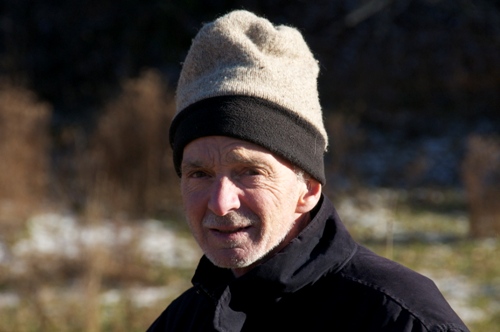 Tim Matson, author of Landscaping Earth Ponds, is Vermont's resident expert on small-scale, man-made bodies of water. His work as a pond consultant, as well as his book and DVD, have been leading people to water for years, and this week Matson was profiled on VTDigger's series In This State.
Article by Dick Van Susteren.
Like a modern-day Johnny Appleseed, Tim Matson travels the countryside bringing value to landscape – only he plants ponds not fruit trees. By his reckoning, in 25 years he has helped design or revitalize some 500 ponds in Vermont.
Matson has found an income stream with ponds, and why not? John Chapman (Appleseed), was known to pick up a free lunch here and there during his meanderings with seed bags across the Midwest. Pond consulting augments freelancing for this writer-photographer from Strafford. If Vermont decides it ever needs an official pond guru, as it has a state flower and bird, Matson would be a top candidate. It all began in 1971 when Matson, then 28, joined thousands of other counter-culture types in immigrating to Vermont, where farmland was cheap and native residents were generally tolerant of newcomers, even those with long hair. Matson had done a stint in the military, where he had the good luck, in his mind, to avoid Vietnam by being accepted at Army photography school. After his service he wangled a job in book publishing in New York, where his father had been a noted literary agent. He wound up at divisions of Simon & Schuster, pulling a decent salary as a jack-of-all-trades, copy editing, buying reprint rights, writing book jacket copy, sometimes even taking photos. Matson, now gray-haired, dates himself by mentioning he had a role in helping to bring Yippie Abbie Hoffman's book, "Revolution for the Hell of It," to paperback. On a cold December day in a field in central Vermont, where he is scoping out possible pond sites for a landowner, he mentions with a laugh that it was his photo of author Joe McGinniss that graced the back cover another political classic of the times: "The Selling of the President, 1968," the story of hucksterism in Richard Nixon's campaign. As befits the historic stereotype, Matson arrived in Vermont in a VW bug, a red one at that. He had grown "absolutely and totally sick of the city," and unhappy with the political system, he says, he was moved by the "back-to-the-land movement" of the period. His first brush with ponds was the waterhole at a farmhouse that he and a girlfriend had rented in Thetford. It turned out to be a perfect place for hippie parties, skinny-dipping and other wild affairs. He tasted the pond bait and was hooked. Three years later, with help of a $7,500 advance on his second book ("Pilobolus," a photo essay of the famous Dartmouth College dance group), Matson bought 45 woodland acres in Strafford and pitched a tent he called home and began building a cabin, with among other tools, a chainsaw. He got along without electricity, put in vegetable gardens, cleared a spot in the alders for his second pond, and then hired a guy with a backhoe. "I grew up in Connecticut on the Sound, and found that I missed the water, and I wondered where it all was in Vermont," he says. He couldn't find enough of it close by, "so I had this pond dug." Marriage and two daughters (now grown) followed, and the pond became the focus of family life: Swimming in summer, ice-skating in winter, and, always it seemed, opportunities for social life and observing wildlife. Matson embraced rural life, and, as a freelance writer began writing essays and how-to's about back-40 ponds for the likes of Harrowsmith, Mother Earth News, Country Journal and Yankee Magazine. For children and the young at heart, he says, ponds are part zoo, playground, museum and amusement park. "Kids love to hang out at them, make mud pies, fool around with salamanders, and watch dragonflies," he says. "I think too many kids today suffer from what a friend of mine calls 'nature-deficit disorder'. … They are too much into phones and computers; they live in a screen world." Matson is bullish on family ponds of all sizes and shapes, but he's quick to warn that a once-promising body of water can easily become a costly headache if poorly designed. They can turn to algae-infested quagmires They can even disappear due to drought or leakage. A pond can also cost a lot, anywhere from $5,000 to more than $50,000, he explains. Walking across the brown-gray landscape and looking for potential pond sites, and carefully choosing verbs that sidestep certitude, Matson says, "That could be a spot."
Keep reading over at
VTDigger
…
---