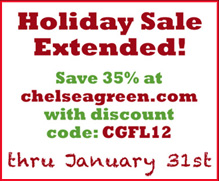 The holidays may be over, but our holiday sale has been extended through January 31, 2013!
That means you can still save 35% on any purchase from chelseagreen.com by using the discount code CGFL12 when you checkout.
This sale is a great time to stock your library. If you've had your eye on our runaway hit, New York Times Bestseller The Art of Fermentation, now is a great time to grab it. Or if you've been tempted to pick up some some gardening classics like Eliot Coleman's The Winter Harvest Handbook or Carol Deppe's The Resilient Gardener, or books to help improve your small farm like Richard Wiswall's The Organic Farmer's Business Handbook, or Joel Salatin's Pastured Poultry Profits — this sale is a great chance to get them for a low price. Be sure to check out our new book/DVD sets as well. This is a nice time to snap them up for a great price.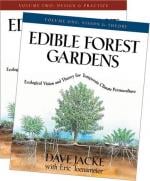 Books like the two-volume series
Edible Forest Gardens
are usually $75 apiece and $150 as a set. With the 35% discount they would only cost you $48.75 each, or $97.50 for the set. That's a great deal for some of the best resources available on cultivating forests of food using natural methods!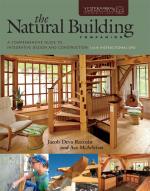 The recently released
Natural Building Companion
is another great deal. Part of a new series from Yestermorrow Design-Build School, the book includes information on almost any natural building technique you can imagine, from straw bale to cob, and much more, plus a DVD to help you learn. Normally $59.95 amount, during the sale you can get
The Natural Building Companion
for just $38.97. Likewise,
Passive Solar Architecture
, a comprehensive book on building to utilize the readily available power of the sun to both heat and cool your home. The book normally costs $85.00 but during our sale you can get it for just $55.25.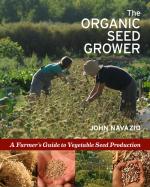 If you're a small farmer interested in producing your own seeds, check out our new book,
The Organic Seed Grower
by John Navazio. Funded partially by a USDA SARE grant, this beautiful and easy-to-use book is a guide to producing seed organically, including botanical information, planting distances, how to harvest, prepare, and store seed, and so much more. The book's full price is $49.95, sale price $32.47. These books are particularly nice to get during our sale, but the discount code applies to every book in our catalog, except for any that are already on sale.
Remember to use the code CGFL12 when you checkout, and happy shopping!
---