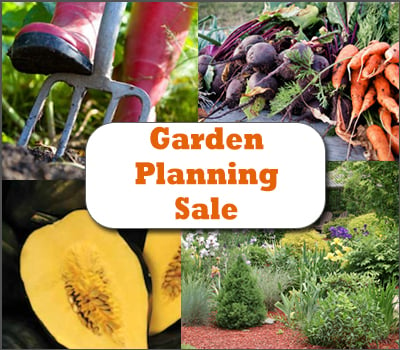 Want a great garden?
It all starts with a good plan. You'll find growing is easier than you ever imagined.
To help jump-start your garden planning we've included some tips and inspiration from our expert authors; from planning the best garden, to starting your seedlings right and how to pick the best crop for your garden.
Keep checking our website for the month of March with more posts as part of our "Garden Series" for planting tips and tricks for the coming gardening season. We've also put all our gardening books on sale for 25% off until March 31st. Happy reading (and planting) from your friends at Chelsea Green Publishing. P.S. In case you missed it we're partnering with
Whole Earth Summit
– a free on-line 3-day seminar (March 11-13th) with some of the world's leading activists and on-the-ground leaders. Hope you can join us!
---
How to Plan the Best Garden Ever

Growing your own food is hard work, but with a few easy tips and techniques you can make it a lot easier. It all starts with a good plan. Carol Deppe shares her labor-saving tricks for your best garden yet. Plan it »»
Start Seedlings in a Cold Frame
Are you ready to get a start on the gardening season? With a cold frame you can jump in now.
Farmer Eliot Coleman is the master of growing vegetables year-round, and he has some simple guidelines for using cold frames to start seedlings right. 
Grow it 
»
»
---
Choosing the Right Seed Crop
Ever wonder what crops will grow best on your land? 
Well, learn from award-winning author John Navazio about the right questions to ask.
He guides you through the characteristics of the most cultivated crops so you will get a better feel for which crops are best suited for you, especially when growing them from seed. 
Grow it »»
---
~ ~ Gardening Savings: 25% Off  ~ ~
Retail $29.95

Sale: $22.46

Retail $24.95

Sale: $18.71

Retail $

19.95

Sale: $14.96

Retail $49.95

Sale $37.46

Retail $29.95

Sale $

22.46
---
Discount codes do not combine with other offers—our books
already on sale for example. Free shipping for orders $100 or
more is applied after the discount is applied. (U.S. Orders Only)
---