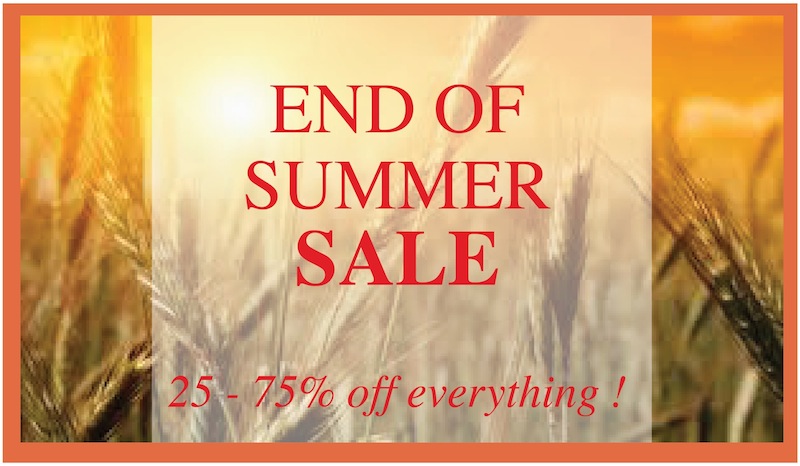 We're having our end of summer sale to make room for our forthcoming fall releases!
We're offering four chances to save big—up to 75% off—on some of our new and bestselling books, as well as old favorites.
We have some amazing deals on select titles:
Then everything else is
25% off with the discount code SUMMER
at checkout. But hurry it is only while supplies last! As always, we offer FREE shipping on orders of more than $100. Happy reading from your budget-conscious friends at Chelsea Green Publishing
---
Sale runs through September 7th. Discount codes do not combine with other offers—our books already on sale for example. Free shipping for orders $100 or more is applied after the discount is applied. (U.S. Orders Only).
International orders can be placed by phone (802-295-6300) or email
.
---
Deepest Discounts: $4.99 Bargain Books
| | | | | | | | |
| --- | --- | --- | --- | --- | --- | --- | --- |
| | | | | | | | |

All Books 25% off with discount code SUMMER
| | | | | | | | |
| --- | --- | --- | --- | --- | --- | --- | --- |
| | | | | | | | |
| | | | | | | | |
| --- | --- | --- | --- | --- | --- | --- | --- |
| | | | | | | | |

Deeper Discounts: 50% off Books
| | | | | | | | |
| --- | --- | --- | --- | --- | --- | --- | --- |
| | | | | | | | |
| | | | | | | | |
| --- | --- | --- | --- | --- | --- | --- | --- |
| | | | | | | | |

Deepest Discounts: 75% off Books
| | | | | | | | |
| --- | --- | --- | --- | --- | --- | --- | --- |
| | | | | | | | |

---
---
---