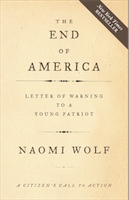 If the book wasn't enough to get you up and actively working to save the country from sliding into a fascist morass—then perhaps putting it up on the big screen will. Shooting will commence in early May on the adaptation of Naomi Wolf's
The End of America
, a word-of-mouth phenomenon from publisher Chelsea Green. The book was on
The New York Times
Best Seller list for more than five months. A simultaneous theatrical and DVD release is scheduled for late summer. When some enterprising students videotaped Naomi's lecture tour in support of
The End of America
and posted it on YouTube, more than 460,000 people viewed and passed the video around, creating a truly grassroots movement—achieved solely by word of mouth with no outside promotion. Clearly, something unique is afoot. This vital information is resonating with concerned citizens, and Naomi Wolf has proven herself to be the right messenger.
The End of Americ
a details the ten steps a country takes when it slides toward fascism. It's not a "lefty" tome, rather a historical look at trends in once-functioning democracies from modern history that are being repeated in our country today. It gives any reader (or viewer of the lecture) a much-needed history lesson and constitutional refresher. Most importantly, it puts the recent gradual loss of civil liberties in the U.S. in a historical context. The average American might not be alarmed at AT&T selling our private information to the Bush administration, but when this action is seen as part of a larger series of erosions and events, a pattern emerges with unfortunate consequences that become disturbingly clear. Naomi Wolf is a truly captivating speaker. She takes the idea of "civil liberties" out of the realm of something that applies (or fails to apply) only to scary terrorists and "enemy combatants" and compellingly empowers the reader/viewer to understand that rights like habeas corpus and due process of law are not only worth protecting in the abstract, but vital to the USA as we know it. Ironically, and although he said it in a different context, Constitutional abuser par excellence Dick Cheney's words are true when it comes to our rights: the American way of life is non-negotiable. With The End of America, Wolf has established herself as America's preeminent citizen-defender of the Constitution. This documentary film will bring
The End of America
fully to life. Academy Award–nominated documentarians Annie Sundberg and Ricki Stern (
The Trials of Darryl Hunt, The Devil Came on Horseback
) will film an Inconvenient Truth-style, multi-camera version of Naomi's incredible lecture with an interactive audience. Interstitial break-away segments, featuring both talking-head and "fly on the wall" interviews with ex-presidents, political leaders, military generals, intelligence community top bass (who are willing to talk on camera about the uselessness of "intelligence" gained through torture), and innocent victims of our gradually eroded civil liberties, will anchor viewers emotionally to both the historical echoes and present-day consequences of the erosion of our Constitution. There is an audience of concerned American citizens clearly hungering for this information. In this pivotal election year,
The End of America
documentary film seeks to accompany Naomi's best-selling book as a clarion call for citizen awareness—and for the protection of the Constitution that defines and unites us as Americans.
---