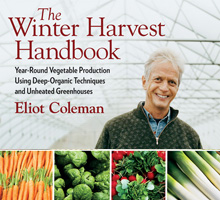 edibleASPEN
magazine, based in Colorado, interviewed
Eliot Coleman
(as well as our beloved
Joel Salatin
) in their
Fall 2010 issue
. Read Eliot's interview below and click
here
to see the full piece online.
edibleASPEN: What has been the biggest change in the way people perceive food in the last decade?
Eliot Coleman: Back when we started, people would come to the farm stand because they remembered farm stands from when they were young. But now, local has become such a popular concept for food the biggest change is that the customers are driving to the farms instead of the other way around. People want local. In fact, the local movement has gone to a place in about five years that it took organic 40 years to do.
EA: Why do you think that is?
EC: I suspect lots of credit might go to Alice Waters or Michael Pollan. You can't have books read by that many people without having some effect, and we have more and more competent young growers.
EA: What is your impression of the organic farming movement in western Colorado? How does it compare to other parts of the country? EC: I'm pretty familiar with that part of Colorado. I spent summers running a kayak camp at CRMS—there's actually a great farm there [at CRMS, it's perfect. You guys [have] more winter sun, and it probably gets colder up in the mountains. But the biggest hangup is water. There's no rain! That is what would have kept me from settling there. EA: What is it going to take to systematically change the way people eat in the United States? EC: I think that's happening; it's just a case of getting the information out there. There's always going to be a certain percentage of people that don't change. For example, you can't have more or stronger information about the dangers of tobacco than we have, yet 25 percent of people still smoke cigarettes. You are going to have that same percentage that are always going to eat Twinkies, but in time, companies with large plants are going to start encouraging farmers to set up farm stands at closing time, where people can buy organic produce. That would be a very smart idea. These companies are all paying huge health insurance amounts and just getting people to eat more fruits and vegetables will improve health, lower company costs and make a farmer happy at the same time. Those sorts of changes can happen. Eliot Coleman is the author of, most recently, The Winter Harvest Handbook: Year-Round Vegetable Production Using Deep-Organic Techniques and Unheated Greenhouses
---