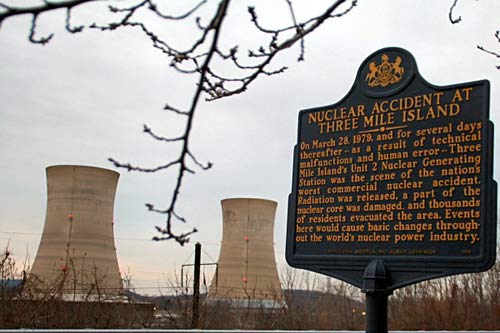 Three Mile Island, the nuclear plant in Pennsylvania that melted down on this day in 1979, is synonymous with nuclear disaster. The meltdown was stopped before any serious damage occurred, but 34 years after this near miss at Three Mile Island, how safe are we from this kind of catastrophe?
Ask the residents of San Clemente, California, who live in the shadow of the San Onofre Nuclear Generating Station. The plant has been offline for months since an "unusual" leak was found to be releasing radioactive steam into the environment. Or ask the folks of Burlington, Kansas where the Wolf Creek Generating Station suddenly lost power last winter after faulty wiring tripped a breaker and blew a transformer.  These are just two of the dozen nuclear plants that had close calls last year. From equipment failures to bumbling workers, and vulnerabilities to extreme weather and earthquakes, nuclear plants are ticking time bombs.
In the excerpt below, Gar Smith, author of Nuclear Roulette, reminds us that while we imagine nuclear technology to be as advanced as what we see on Star Trek, in reality the first reactors began construction in the US actually predate NASA — and the control rooms that manage these relics aren't even as advanced as Homer Simpson's — they still use out-dated analog dials and alarms. Not exactly the kind of thing you'd want to be all done up in retro style, right?
But that's okay, because surely the industry watchdog tasked with keeping us safe from the hazards of nuclear radiation is doing its best to monitor safety violations and respond to lackadaisical plant managers with harsh fines and penalties. Well no. In fact the Nuclear Regulatory Commission more often than not fails to enforce its own regulations, seriously undermining the safety net between us and the inherent dangers posed by nuclear power. A recent report from the
Union of Concerned Scientists
takes the NRC to task for these failures, pointing out how the even culture within the Commission itself encourages a lack of oversight. For example, NRC managers don't listen to their employees, and actually chastise them for pointing out safety violations at inspected plants! The UCS report goes on to outline the year's most serious malfunctions at nuclear reactors across the country: 14 worrisome mishaps at 12 reactors. Do you live near one of the faulty reactors? Read the full report, and all the scary mishaps that occurred last year on the
UCS website
. And then stock up on potassium iodide and haz-mat suits. If you still feel good about nuclear energy, the excerpt below from Chapter 19 of
Nuclear Roulette
, should fix that. It covers a morbidly fascinating list of worker errors, stories of the NRC ignoring serious violations, and even more plants that have come awfully close to blowing their radioactive tops. And last but not least, check out Mat Stein's article about the risks posed by that other nuclear energy source we love so much, the sun. With a big enough solar flare we could be facing "
400 Chernobyls
."
Near Misses and Unbelievable Mishaps: From Nuclear Roulette by Chelsea Green Publishing
---