Jessica Prentice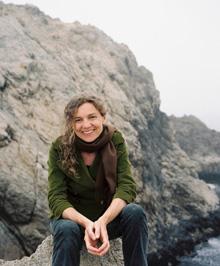 Jessica Prentice is both a professional chef and a passionate home cook. In her cooking, Jessica brings together creativity and imagination with a deep respect for traditional cuisine and time-honored culinary practices. Through her work, she seeks to provide a model for how communities can feed themselves in a way that is satisfying and health-supportive on all levels: delicious, environmentally responsible, and grounded in the wise nourishing traditions of our forebears. In her workshops, she seeks to both inspire people to cook, and help them develop the practical skills to feel successful in the kitchen. Jessica currently writes a New Moon Newsletter called Stirring the Cauldron that is sent out to Internet subscribers around the world on each new moon.
Jessica coined the term "locavore" and helps sponsor an annual Eat Local Challenge (www.locavores.com). She is one of the founding worker-owners of Three Stone Hearth, a community-supported kitchen in West Berkeley (www.threestonehearth.com) and speaks nationally on building sustainable food systems.
Career and Training
Jessica Prentice worked as the Director of Education Programs at the Center for Urban Education about Sustainable Agriculture, where she conducted Farm Tours to some of Northern California's most ecologically oriented farms and ranches, taught live cooking demos, hosted panel discussions around issues of sustainable agriculture, and conducted regular interviews with farmers at the Saturday morning Ferry Plaza Farmers Market.
Jessica is the former chef of the Headlands Center for the Arts in Marin County, California, where she worked from 1997 to 2000 developing a successful food program bringing together her passions for culinary traditions, ingredients that reflect the greatest ecological integrity, and the spirit of community gathered around food, cooking, and our shared humanity. In 2001 she founded the Headlands Hearth Bakery and Café, a community dining hall in the Marin Headlands, featuring locally and sustainably grown foods, home cooked into delicious meals, at an affordable price. The Hearth Café was centered around a beautiful wood-fired brick oven, where naturally-leavened hearth loaves are baked.
She is a graduate of the Natural Gourmet Cookery School in New York, from the nation's only professional chef's training program that focuses on food and health and natural foods.
Jessica is a Bay Area chapter head for the Weston A. Price Foundation for wise traditions in food, farming, and the healing arts.