Jack First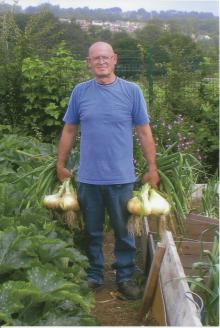 Jack First is an experienced horticulturalist who has pioneered, developed and fully tested the hot-bed methods covered in this book. He works with volunteers on a large plot in Keighley and is the sole supplier to his local wholefood shop of out-of-season greens, new potatoes and salads.
He studied agriculture in the late 1960s and has been involved with farming and horticulture ever since. For the last 14 years he has run a horticultural project for people with mental health problems. He was a Soil Association symbol holder for ten years, taught organic gardening at Shipley College, has given public talks to allotment associations and worked in schools setting up organic gardens. He also worked in a wholefood cooperative, producing, wholesaling and retailing organic produce.
While at college, Jack came across an old gardening book that included a passage on hot beds. He has since amassed many old books on the subject, inspired to try out this intriguing growing method himself. How did they do it? Did they really attain those incredible early yields, and could those old methods be replicated? Taking up that challenge has resulted in Jackís book Hot Beds. Jack Firstís hot beds have been featured on BBC TV's Gardenersí World.
He is married with three sons and lives in West Yorkshire.