Hanne Risgaard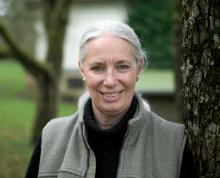 Hanne Risgaard runs Skærtoft Mølle with her husband Jørgen Bonde, and her daughter, Marie-Louise, who is the translator of this book. Hanne Risgaard and Jørgen took over a previous farming operation in 1983 and converted to entirely organic in 1991. In 2004 they decided to turn their empty buildings into a mill and start producing their own organic, stone-ground flour. Since then, the family-run company has produced a steadily growing range of prize-winning products that both stimulate the senses and follow modern culinary trends. The products from Skærtoft are mainly sold in high-profile supermarkets and restaurants. In 2006, Marie-Louise joined her parents full-time in product development, marketing, and management of the farm and mill. She is also an agronomist specializing in organic agriculture and is a fifth-generation farmer of Skærtoft. She started teaching bread-baking classes at Skærtoft in 2008. In 2010 Skærtoft won the Danish Design Award for the design of their packaging.
Skærtoft Mølle—literally translated as "Cut-Road Mill"—is situated on Als, an idyllic island in the southeast of Denmark, and has been in the Bonde family since 1892.
Als is situated in the Baltic Sea, some 30km from the German-Danish border, and was formerly a part of the German Grand Duchy of Schleswig. Because of its history of changing ownership between the two countries, both Danes and Germans continue to feel at home in the area.
In 1991, the decision was taken to run Skærtoft Mølle as a solely organic enterprise, and Hanne and Jørgen continue to oversee all of its endeavors with love, care, and attention.
Besides flour, Skærtoft Mølle produces grains known as "pearls": as in pearl spelt, pearl rye, and pearl barley. They select whole grains of spelt, rye, and barley, and then polish them, removing the woody outer husk to make "pearls." These were a staple food of older times, providing a solid, healthy diet to folk throughout Scandinavia and northern Europe. The New Nordic Cuisine combines health, well-being, and enjoyment with the best of modern gastronomy—and the renaissance of the pearls is proving to have a vital role in this. Copenhagen's celebrated NOMA, which recently received a "World's Best Restaurant" award, uses Skærtoft Mølle products.