Gianaclis Caldwell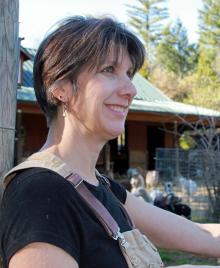 Gianaclis Caldwell grew up on a small family farm in Oregon, where she milked cows, ran a dairy cow 4-H club, and learned to raise organic produce and meat. In 2005, Gianaclis returned to the property with her husband and their two daughters where they now operate Pholia Farm, an off-grid, raw milk cheese dairy.
Gianaclis's aged, raw milk cheeses have been recognized and applauded by America's foremost authorities on cheese. Pholia Farm cheeses have been included in many major books on artisan cheese, the latest being Max McCalman's Mastering Cheese, in which her Elk Mountain cheese is included in a short list of "rock stars of the 21st century." Her Hillis Peak cheese was the centerfold cheese in the winter 2010 issue of Culture Magazine. She was one of the spotlighted cheesemakers in a recent publication, Cheesemaking, by Hobby Farms magazine for their Popular Kitchen Series. She has been teaching all levels of cheesemaking for years, as well as speaking and teaching about the business of farmstead cheese, both at Pholia Farm and other venues, including the American Dairy Goat Association annual convention, the American Cheese Society Conference, and the Mother Earth Newsfairs.
Caldwell is the author of The Small-Scale Dairy, a guide to the production of high quality, farm fresh milk, The Small-Scale Cheese Business, a guide to producing and selling artisan cheese, and Mastering Artisan Cheesemaking, which won a 2013 Foreword Book of the Year Award in Reference and was an International Association of Culinary Professionals finalist. Her photographs and writing appear regularly in numerous publications, including Culture Magazine.